Explore the Dolomites on some of the best road biking tours available, cycling over breathtaking mountain pass after pass as you ride from beautiful Cortina d'Ampezzo to idyllic San Cassiano in Alta Badia.
Bike Day in the Dolomites
TRIP HIGHLIGHTS
Bicycle over breathtaking Dolomite mountain passes, enjoying fabulous ascents and jagged Dolomitic peaks and descents into beautiful valleys
Explore many of the highlights of the Dolomites: the Sellaronda and the Sella Massif, Corvara and Passo Gardena, Alta Badia and Cortina d'Ampezzo, and more!
See an incredible variety of Dolomitic landscapes, from eroded glacial moraines to walls long ago below the sea to the highest mountain in the Dolomites
Experience three cultures – Italian, German, and Ladin – with their many traditions that make this region so unique
Cycling is one of the best ways to explore the Dolomites – to grasp its scale and see it change around every corner. And this itinerary is an incredible selection of some of the best road biking itineraries available in the Dolomites! You'll taste the excitement of being completely surrounded by a UNESCO World Heritage Site, as you cycle 419 kilometers (206 miles), with 15,014 meters (49,259′) of climbing and 14,643 meters (48,041′) in descents, with a "low point" of 278 meters (912′) in Bolzano and a high point of 2254 meters (7,395′) on the Passo Pordoi. These are numbers that road bikers dram of! To challenge themselves on the famous roads of the Dolomites, with even-length, manageable stages each day.
Not only will you relish these rides and the breathtaking surroundings each day, but also the selected cuisine and the cozy bike-friendly hotels. Discover the different culture, the true delights of traditional cuisine and the particulars of the different valleys and small villages. Explore geological mysteries and phenomenon. Luxuriate in a spa after a long ride – you earned it after all! You'll soon see why bicycle is the ideal vehicle to savor the atmosphere and the reality of these mountains.
Check out the high definition videos in ourSUMMER VIDEO GALLERY!
TRIP DETAILS
Length:  8n / 9d
Start / Finish:  Cortina d'Ampezzo / Alta Badia
Moderate to Challenging Trip: For road bikers in good physical condition.
Options:
  This trip is available as a custom departure on dates of your choosing, or as a self guided trip
Cost: starting at €2780 per person with 6 members

Includes:  Accommodations and meals as per itinerary, professional bike guide, road bikes, helmets, local transportation, luggage transfer, and map of the area.
About Our Guides
The cycling on this trip isn't just about the distance and meters climbed, but is for you to fully experience and enjoy the Dolomites. Our guides are always looking for the best areas for guests to experience, often places that most visitors do not get to see!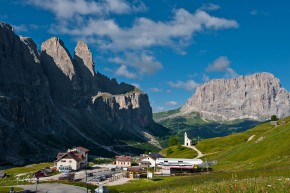 Dolomites Panoramas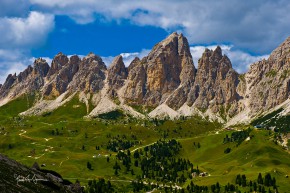 Dolomites Panoramas
ITINERARY
Trip itinerary may vary based on weather conditions, fitness levels and abilities of participants, and/or the recommendations of your guide.
Day 1 ~ Arrive in Cortina d'Ampezzo, Dolomites
Arrive in Cortina d'Ampezzo and check into your hotel. Cortina is a charming alpine resort town surrounded by stunning peaks. Meet your Dolomite Mountains Guide in the afternoon for a trip briefing and equipment check.
…Hotel in Cortina d'Ampezzo (3-Star)
Day 2 ~ Cortina d'Ampezzo to Forcella Staulanza
Start from Cortina cycling up to Passo Giau (2,236m / 7,336′), a famous pass in the Giro d'Italia bike race. From here you'll be able to admire the Marmolada, Civetta, and the Col di Lana, which held a strategic position during WWI. Descend through Selva di Cadore, then climb to the top of Forcella Staulanza (1,773m / 5,817′), arriving at your rifugio for the evening. (38 km / 24 miles biking, 1,792m / 5,879′ ascent – 1230m / 4,035′ descent.)
Since today is your first day of cycling, we kept the tour relatively short, but for those with energy to spare, an additional ride is available.
B,D… Rifugio 
Day 3 ~ Forcella Staulanza to Fiera di Primiero
Descend to Val di Zoldo, and then climb to Passo Duran (8 km / 5 miles, 647m / 2,123′ elevation gain), touring around the southeastern mountains of the Civetta Group. Descend again (14 km / 9 miles, 1,000 meters / 3,281′) to the village Agordo in Belluno, then climb the Passo Cereda (23 km / 14 miles, 1,040m / 3,412′). You'll enjoy two brief descents that break up the climb – no doubt welcome breaks! Upon reaching the top of the pass, a final descent for the day takes you to San Martino di Castrozza, where you will stay tonight. (65.6 km / 41 miles biking, 1,862m / 6,110′ ascent – 2,937m / 9,636′ descent.) 
B,D… Hotel in San Martino di Castrozza (3-Star)
Day 4 ~ Fiera di Primiero to Moena 
Tackle three important ascents today – Passo Rolle (21km / 13 miles, 1,260m / 4,134′ ascent), Passo Valles (7km / 4 miles, 465m / 1,526′ ascent), and Passo San Pellegrino (6km / 4 miles, 492m / 1,614′ ascent) – with incredible scenic landscapes that bring you into the heart of the Dolomites.
En route you pass by the base of the Pale di San Martino – a large sedimentary 2,600-meter (8,530′) plateau, with its ancient tropical seas and coral reefs from 250 million years ago; the peaks of Loagorai, the remains of ancient volcanic eruptions; and "La Foresta dei Violini" – the spruce fir woods that the world renown Stradivari violins wood comes from.(59km / 37 miles biking, 2,382m / 7,815′ ascent – 1,900m / 6,234′ descent.)
B,D… Hotel in Moena (3-Star)
Day 5 ~ Moena to Oberbozen Renon
Today you cycle from the Catinaccio-Latemar mountain group to the Renon plateau. A slight descent is followed by an ascent to Passo Lavazzè (11km / 7 miles, 830m / 2,723), and as you cycle be sure enjoy the spectacular view of the Latemar mountains and the Renon plateau. Another descent – a long one this time! – to Val d'Ega (25km / 15 miles, 1,530m / 5,020′) brings you to the entrance of the city of Bolzano. One final ascent for today (11.5km / 7 miles, 1,230m / 4,035′) to reach the village of Soprabolzano where you will stay for the night. (65 km / 40 miles biking, 2,282m / 7,487′ ascent – 2,254m / 7,395′ descent.)
This afternoon is free for you to relax and explore, visiting the city of Bolzano and the South Tyrol Museum of Archaeology to see Ötzi (the Iceman), or the Ritten Earth Pyramids – famous obelisks of red earth formed by erosion of glacial moraines.
B,D… Hotel in Renon (3-Star)

Day 6 ~ Renon Soprabolzano to Pozza di Fassa
Depart Renon with a spectacular view of the Dolomites descending to Val d'Adige (11km / 7 miles and 860m / 2,822′). Cycle along the Adige River (the second largest river in Italy) toward Austria, and then on toward Costalunga Lake. After 28 kilometers (17 miles) with 1,515 meters (4,970′) of climbing, arrive to Passo Nigra (1,712 / 5,617′), and then Passo Costalunga (1,752m / 5,748′), riding through small and isolated villages far from traffic. If you have the energy, it's worth extending the itinerary to the vibrant turquoise Costalunga Lake. Descend to Val di Fassa where you will spend the night. (55 km / 34 miles biking, 2,218m / 7,280′ ascent – 2,106m / 6,909′ descent.)
B,D… Hotel in Pozza di Fassa (3-Star)
Day 7 ~ Pozza di Fassa to San Cassiano
Today is the hardest ride of the week, but with the training you have done the last few days, you will be ready to cycle up these Dolomite passes in no time! Begin with a light ascent to Canazei, then up to Passo Fedaia. Next is one of the steepest ascents of the tour: 12.5 kilometers (8 miles) with a 1,030 meter (3,379′) elevation gain at an inclination up to 13%. Wow!  You'll be overjoyed when where you reach the village Caprile and can catch your breath. Continue to ascend, cycling up to Passo Falzarego (20km / 12 miles and 1,070 meters / 3,510′).
One final pass… Passo Valparola. Finish with a descent to San Cassiano (9km / 6 miles with 636 meter / 2,087 elevation loss), one of the most picturesque villages in the Alta Badia region. (67 km / 42 miles biking, 2,377m / 7,799′ ascent – 2,143 m / 7031′ descent.)
B,D… Hotel in San Cassiano, Alta Badia (3-Star)

Cycle the well-known, classic ride in alpine cycling – the Sellaronda. This famous tour circumnavigates the Sella Massif, crossing four passes – Gardena (2,137m / 7,011′), Sella (2,240m / 7,349′), Pordoi (2,242m / 7,356′, often the highest point of the Giro d'Italia, and famous for its 33 hairpin turns), and Campolongo (1,875m / 6,152′). Return to San Cassiano and celebrate your accomplishment!
B,D… Hotel in San Cassiano, Alta Badia (3-Star)
Day 8 ~ Depart
Breakfast and departure.
B…